Govt turns to Google as tax collection remains low – The government is turning to internet giant Google, which it claims owes unpaid taxes from its advertising revenue, as the latest data show that tax collection remains pitifully low.
In a press briefing on Thursday, the head of the Taxation Directorate General's Jakarta branch Muhammad Hanif said Google had rejected a request, sent in April, for permission to examine its tax reports.
"It refused to be investigated by us. We will move forward by investigating it soon because its refusal indicates [that] a criminal act [occurred]," Hanif said, adding that the tax office would launch an investigation into Google as soon as possible.
He said that Google only allocated 4 percent of its revenues to be taxed, a figure that the tax office claims is unfair, considering that the giant receives much more from advertising income in Indonesia.
"We don't know where it gets its advice from, but it now refuses to be named as a BUT [permanent establishment]," Hanif stated, pointing to the government's requirement that global tech giants offering services in the country — such as Google, Facebook and Twitter — set up permanent entities and pay taxes or risk having their services shut down.
However, the BUT requirement itself has yet to have a legal basis because the Communications and Information Ministry is still drafting the regulation.
Communications and Information Minister Rudiantara previously also promised to provide enough time for the tech giants to comply.
Meanwhile, the tax office's statement came amid the revelation that participation in the tax amnesty program remains low and nationwide tax revenue collection moves at a snail's pace.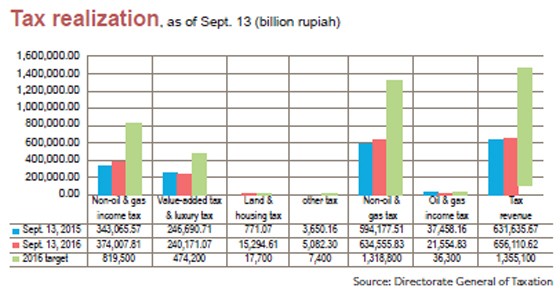 -(Directorate General of Taxation/-)
According to data from the tax office, year-to-date collection stood at below 50 percent of its target at only Rp 656.11 trillion (US$49.74 billion) as of Sept. 13, with less than four months until year-end.
However, the tax office claims that the nominal figure is still higher compared to what it booked in the same period in 2015.
"The highest growth was booked by non-oil and gas income tax, with 8.32 percent year-on-year growth," said the Taxation Directorate General's tax compliance director Yon Arsal.
Value added tax (VAT) was lower compared to last year on the back of low imports, he added.
Going forward, Yon said his office would make its best effort to meet the target, even though Finance Minister Sri Mulyani Indrawati has already forecast a Rp 218 trillion tax revenue shortfall for 2016.
The tax amnesty program, which the government had been promoting as a solution to plug the shortfall, has been a damp squib. The program's penalty payments only amounted to Rp 14.9 trillion as of Sept. 13 from the targeted Rp 165 trillion.
Commenting on the latest situation, Mohammad Faisal, Center for Reform in Economics (CORE) research director, said the low revenue realization increased concern that the shortfall could possibly be higher than expected.
"This is caused by a too-high revenue target set by the government amid low tax potential," he said by phone.
PermataBank economist Josua Pardede shared a similar concern, saying the shortfall could be worse than the government's projection. "It will be difficult to boost the collection even with the tax amnesty," he said.
Separately, Google claims to have complied with existing government regulations.
"We continue to cooperate fully with local authorities and pay all applicable taxes," a Google Indonesia spokesman said in an emailed response to questions, as reported by Reuters.